Members of the community gather for the common and joyful enterprise of making music, to sing through (for their own pleasure) the great works in choral literature, with chorus, orchestra, and soloists as the works require. Any musically interested person may join the chorus.
2022-2023 Season
October 16, 2022 – Mozart Requiem
Conductor: Christopher Loeffler
More Information
February 12, 2023 Beethoven Mass in C
Conductor: John Wilson
More Information
November 13, 2022 – Duruflé Requiem & Haydn Te Deum
Conductor: Gregory Geehern
More Information
March 26, 2023 – Fauré Requiem & Cantique de Jean Racine
Conductor: Alicia Brozovich
More Information
December 18, 2022 – Menotti Amahl and the Night Visitors & Britten Ceremony of Carols
Conductor: Tyler Weakland
More Information
April 23, 2023 – Haydn Lord Nelson Mass & Brahms Nänie
Conductor: Nicole Aldrich
More Information
January 22, 2023 – Gilbert & Sullivan The Gondoliers
Conductor: Lee Milhous
More Information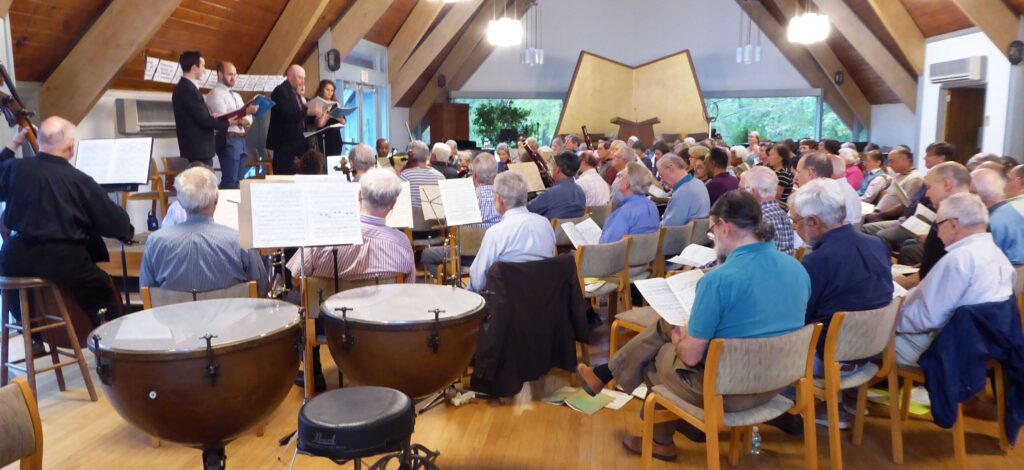 Sessions begin at 4:00pm (3:00pm for Gilbert & Sullivan) and finish by 6:30pm, with a refreshments break in the middle serving tea, coffee, and snacks. We meet at the Unitarian Universalist Congregation of Princeton, 50 Cherry Hill Rd., Princeton, NJ. Please check back to this webpage and our Facebook page for updates.


Our dates are chosen to avoid conflicts with other musical organizations in the Princeton area to the extent possible, and we regret those conflicts that do happen. For a list of other local organizations that welcome participation from amateur musicians, see our list of area musical groups.