Members of the community gather for the common and joyful enterprise of making music, to sing through (for their own pleasure) the great works in choral literature, with chorus, orchestra, and soloists as the works require. A semi-professional orchestra is assembled and professional soloists arranged for, as each work requires. The sessions are always conducted by professional conductors.
The meetings are informal readings in which any musically interested person may join the chorus. There are no auditions and no separate rehearsals, except for a one-hour chorus rehearsal for the annual Gilbert and Sullivan session. Conductors usually do some preparation with the chorus before the sing-through. This varies from minimal snippets for well-known pieces to a complete review for unfamiliar works. Scores are provided.
Sessions begin at 4:00pm (3:00pm for Gilbert & Sullivan) and finish by 6:30pm, with a refreshments break in the middle serving tea, coffee, and snacks. We meet at the Unitarian Universalist Congregation of Princeton, 50 Cherry Hill Rd., Princeton, NJ.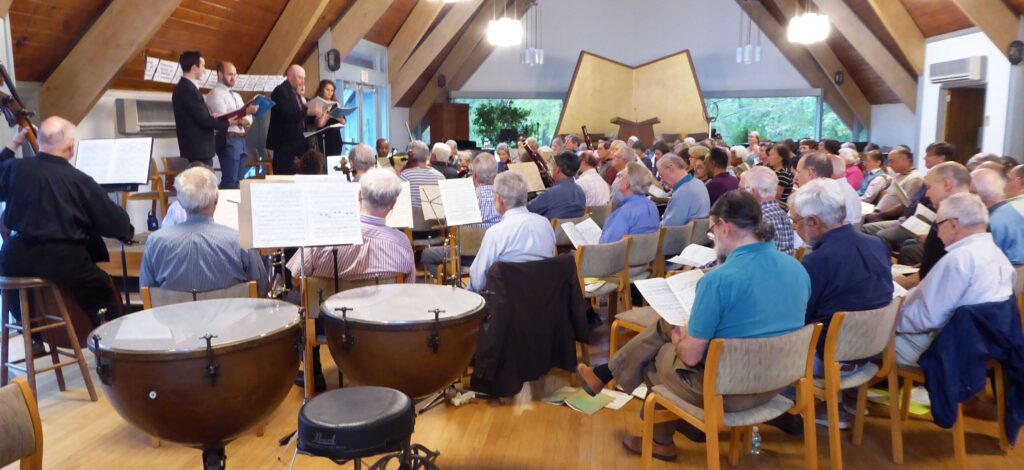 2022-2023 Season
| | |
| --- | --- |
| October 16, 2022 | February 12, 2023 |
| November 13, 2022 | March 19, 2023 |
| December 18, 2022 | April 23, 2023 |
| January 22, 2022 | |
Please check back to this webpage and our Facebook page for updates.


Our dates are chosen to avoid conflicts with other musical organizations in the Princeton area to the extent possible, and we regret those conflicts that do happen. For a list of other local organizations that welcome participation from amateur musicians, see our list of area musical groups.